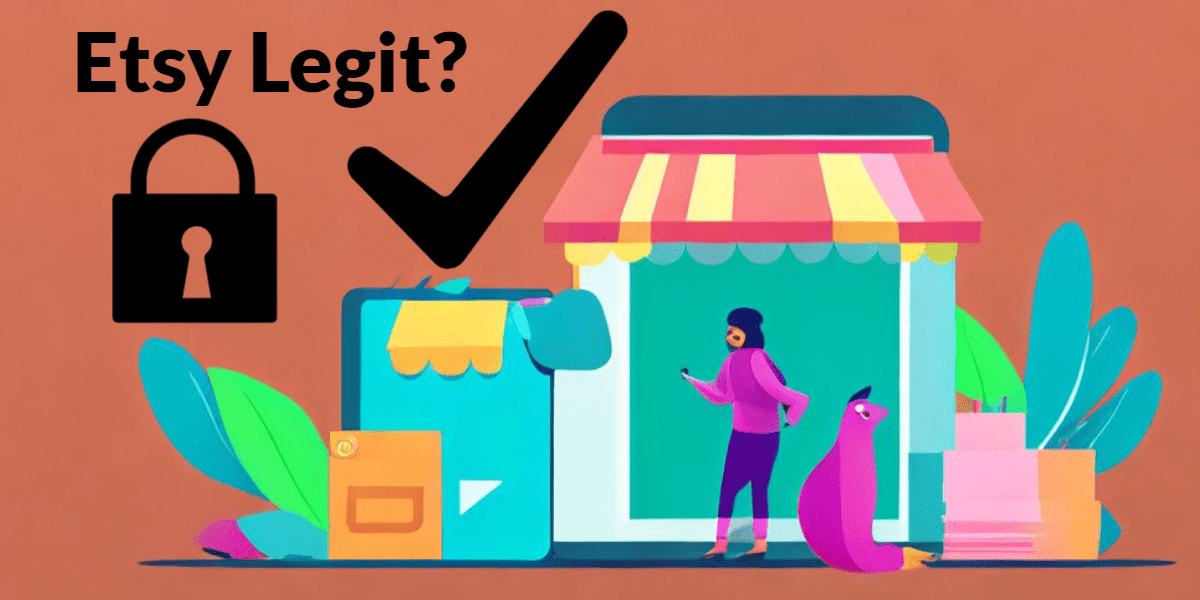 Shopping online can be a great way to find unique items, but it can also be risky if you don't know who you're buying from.
Etsy is an online marketplace for handmade and vintage items that many people have turned to for their shopping needs, but is it legit?
In this article, we'll discuss the legitimacy of Etsy and how customers can feel confident when making purchases through the platform.
We'll look at factors like customer reviews, seller ratings, and payment security to determine whether or not Etsy is a safe place to shop.
Customer Reviews
Customers generally have positive reviews about Etsy. Many appreciate the vast selection of unique and handmade items, as well as the friendly and helpful customer service. There are also reviews praising the ease of navigating the website and finding what you need quickly.
Some customers are pleased with the user-friendly checkout process, while others comment on how fast their orders were shipped and received. Overall, people seem very satisfied with their shopping experience on Etsy. They appreciate that they can find one-of-a-kind gifts or items for themselves without having to go to a physical store.
Customers also enjoy that they can communicate directly with the seller if they have any questions or concerns. In addition, most customers feel that the prices on Etsy are fair and reasonable for what they receive in return. All of these positive reviews show that Etsy is a reliable and trustworthy online marketplace.
Seller Ratings
The thought of ordering something online can be intimidating, especially when you don't know who you're buying from. With Etsy, however, customers can rest assured that the sellers have been thoroughly vetted and rated by other buyers.
Shopping on Etsy is a safe and secure experience with trustworthy sellers providing high quality items.
By reading thorough seller ratings, customers can make informed decisions about which seller they want to purchase from.
Each seller has an individual profile outlining their ratings and reviews from previous customers. This allows buyers to easily assess the quality of products being offered and choose the seller that best fits their needs.
Payment Security
Shopping on Etsy can be a great experience but one of the most important things to consider is payment security. Making sure your information is safe when you pay for any item or service is essential.
Etsy has put in place several measures to ensure that all payments are secure and protect its customers from potential fraud. All transactions on Etsy involve an encrypted connection that makes sure that no one else can access your financial information.
Additionally, PayPal, a well-known third-party online payment system, is integrated into the platform to provide an extra layer of protection. Furthermore, buyers have the option of using Apple Pay and Google Pay for their purchases as both services also offer a secure way to make purchases.
With all these measures in place, shoppers can be confident that their financial details are kept safe when buying from Etsy.
Return Policies
Yes, Etsy is a legitimate website. It is a marketplace where artisans, crafters, and other independent sellers can offer their products to buyers from around the world. All transactions are securely handled and processed through Etsy's system, making it safe for both buyers and sellers. Additionally, Etsy offers buyer protection policies for its customers on purchases made via the site.
The return policy at Etsy varies depending on the individual seller. Most sellers will accept returns if there is an issue with the item or if it does not match the description provided by the seller. Buyers should contact the seller directly to discuss any issues that may arise with their purchase and arrange for a return if necessary. Many sellers also provide refunds in these instances as well.
It's important that buyers read each listing carefully before purchasing to ensure they understand all of the details, including any return policies listed by the seller.
Shipping Options
Etsy is a legitimate online marketplace that offers plenty of shipping options for customers. They offer both standard and express delivery, with express delivery being quicker and more expensive.
Furthermore, they provide international delivery services as well, meaning that customers can purchase items from sellers located all around the world.
In addition to their standard shipping services, Etsy also offers one-day or same-day deliveries for certain items in select locations across the United States.
The website provides customers with a tracking number after their order has been shipped, so they can easily track its progress and know when it will arrive.
All in all, Etsy has a lot of reliable and fast shipping options available for their customers.
Frequently Asked Questions
How Do I Open An Etsy Store?
Opening an Etsy store is a viable option for entrepreneurs looking to make some extra money or start their own online business. It's a great platform for selling handmade items, vintage clothing, and other unique products.
To get started, you'll need to create a free account on the website and provide some basic information about yourself. Once your account is created, you'll be able to access the Etsy dashboard and begin setting up your shop.
You can customize it with photos of your products, add descriptions, and set pricing. Once everything is ready to go, you can publish your store and start taking orders from customers!
How Much Does It Cost To List Items On Etsy?
Listing items on Etsy is an affordable way for sellers to reach a large audience. It costs only 20 cents to list an item and there are no listing fees.
Etsy also provides promotional tools and tips to help sellers reach a larger market. Additionally, they take 3.5% of the sale price as a commission fee when an item sells.
Overall, it's cost-effective and easy to get started selling on Etsy.
Is There A Way To Contact Etsy Customer Service?
Yes, there is a way to contact Etsy customer service. The company offers several contact options, including phone and email support.
If you have any questions or concerns regarding your account, they provide a variety of helpful resources to help address them. You can also reach out to their team directly through the Help Center or via their social media channels for personalized assistance.
What Is The Difference Between An Etsy Shop And An E-commerce Platform?
Etsy shops and e-commerce stores are two different types of online shopping destinations.
Etsy is a marketplace website focused primarily on handmade or vintage items and craft supplies. A marketplace is essentially a large platform that sells a variety of different products from different sellers through a central portal.
An e-commerce store, on the other hand, is a smaller store that sells directly to customers via a platform like Shopify.
Etsy shops are owned and operated by individual owners who create their own unique items, but they are contained within a marketplace. A marketplace allow customers to shop from multiple vendors all in one place.
Customers who purchase from an Etsy shop can expect to receive personalized customer service and satisfaction guaranteed through the shop's individual policies, while also getting a generic experience and protections from the marketplace store. Customers shopping on an e-commerce platform will get personalization but may not get the added trust benefits.
Does Etsy Offer Any Additional Fees Or Taxes?
When it comes to fees and taxes, Etsy offers a few options.
All sellers must pay an Etsy transaction fee, which is a 5% charge of the total cost of the item purchased, including shipping and gift wrapping.
Sellers may also be subject to sales taxes depending on the state they reside in.
Generally, sellers with an annual gross income or inventory over $10,000 are required to collect sales tax.
Additionally, some states require taxes on digital products such as downloads and e-books.
It's important to familiarize yourself with applicable taxes and fees in your area before selling items on Etsy.
Are There Any Tools Available To Help Me Sell On Etsy?
Yes there are many tools available to help you sell on Etsy. Two of the best Are eRank & Marmalead.
I have reviewed them both in my post eRank vs Marmalead as well as provided a more indepth review of eRank
Conclusion
In conclusion, it's clear that Etsy is a legit platform for buying and selling products.
It's easy to open an Etsy store, and the cost of listing items is reasonable. Additionally, Etsy offers great customer service and provides secure payment processing. There are some differences between Etsy shops, marketplace stores, and e-commerce sores, but most of these are minor in nature and there is a lot of cross over.
Finally, there are some additional fees that you should be aware of when doing business on Etsy, but these aren't usually prohibitively expensive. Overall, I think Etsy is a great platform to use if you're looking to start your own online business. Setting up an account is relatively straightforward and the fees are manageable.
Plus, with millions of customers already on the platform and access to helpful customer service representatives, it's easier than ever to get started with your own shop. If you're looking for a safe way to start selling online, I would definitely recommend giving Etsy a try! You can start small and scale up as your business grows – all without having to worry about any major upfront costs or complicated setup processes!