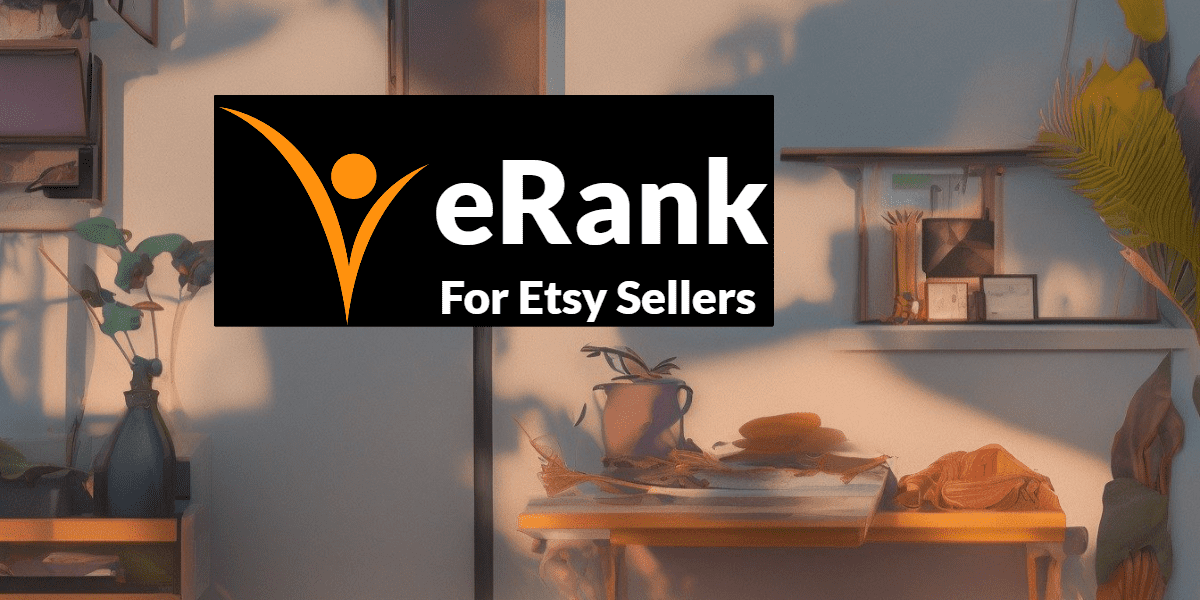 Are you an Etsy seller looking to take your business to the next level? Have you heard of Erank but aren't sure what it is or if it's worth it? With Erank, Etsy sellers can get more eyes on their products and increase sales. In this article we'll explain what Erank is, how to use it, and if Erank is worth it for Etsy sellers.
Etsy has become a popular platform for entrepreneurs looking to start their own businesses. With its easy setup and low overhead costs, many entrepreneurs have found success selling products on Etsy. But with so many sellers competing for attention, standing out from the competition can be difficult. That's where Erank comes in.
Erank helps Etsy sellers increase visibility and sales by optimizing product listings with keywords and other SEO strategies. By doing this, Erank makes sure that buyers searching for specific items are able to find your products quickly and easily. Keep reading to learn more about Erank, how it works, and if it's worth using for your Etsy shop!
Overview Of Erank
Erank is a tool that offers sellers on Etsy an insight into their store performance. It helps them to understand their shop's visibility, and track data such as sales, views, and reviews. Erank also offers analytics that allow sellers to compare their performance against other stores in the same niche. With all this data, they can make informed decisions about how to improve their store's visibility and sales.
Erank also provides helpful tips and advice on how to optimize listings for maximum visibility and help promote more sales. They offer detailed information on areas such as title optimization, keywords, pricing structure, shipping policies, etc., so that users can make sure their shop stands out from the competition. Additionally, Erank helps users to find new customers by providing insights into customer demographics, which can help them target those customers with the most suitable products or services.
Overall, Erank is a useful tool for Etsy sellers who want to gain insight into their store performance and compare it with others in the industry. The available data can be used to determine what changes or improvements need to be made in order to increase visibility and boost sales. Ultimately, whether or not Erank is worth it depends on how much value you're able to get from using it; however, many Etsy sellers have found that it has helped them increase their profits significantly.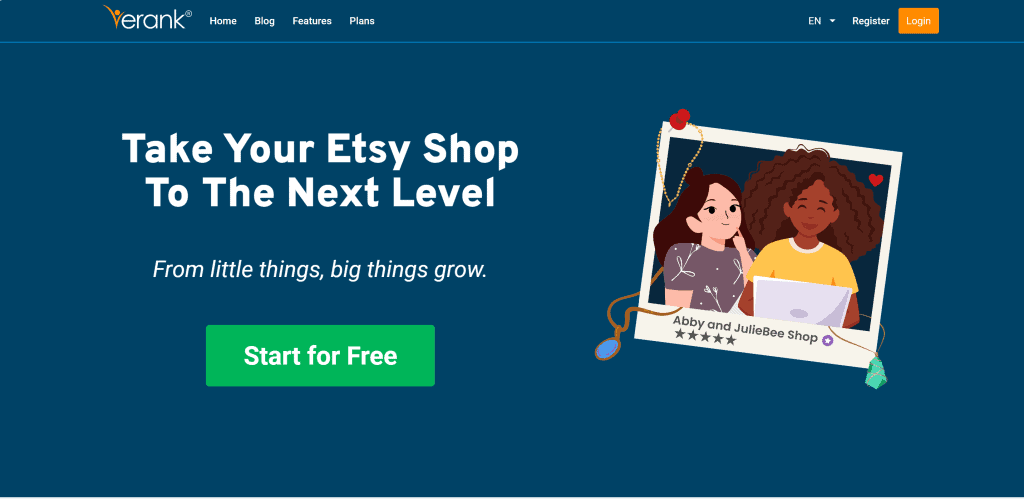 Benefits Of Using Erank For Etsy Sellers
Using Erank for Etsy sellers is a great way to maximize the visibility of their shop. It is an automated tool which helps to optimize listings, track keywords, and monitor competitors. This can help sellers increase their sales and grow their business.
Erank provides insights into how customers are searching for items on Etsy and what keywords they are using. It also allows sellers to monitor competitors' activity so they can adjust their own strategies accordingly. Additionally, Erank analyzes data from previous sales and provides recommendations on how to improve listings. This ensures that sellers are utilizing the best practices for SEO and maximizing their potential reach.
Overall, Erank is an invaluable tool for Etsy sellers as it helps them optimize their listings and gain insights into how customers search for products. By utilizing this tool, sellers can ensure their shop stands out from the competition and increases its visibility in order to generate more sales.
Cost Of Erank Subscription Plans
There are several subscription plans available for Etsy sellers. You can start with a free plan to try out the software to begin with as this has all the features you will need but comes with limitations on the number of lookups and keywords. Then the basic plan starts at $5.99 a month with an annual commitment. This plan includes access to the Erank dashboard, customized analytics, and weekly performance reports. The next tier is the Pro plan at $9.99/month with an annual commitment. With this plan, sellers get access to advanced analytics and monthly marketing campaigns. Lastly, the Expert plan costs $29.99/month and includes detailed analytics, custom marketing campaigns, and priority support from the Erank team.
Regardless of which plan you choose, Erank can be a great tool for Etsy sellers looking to enhance their business strategies. It offers valuable insights into customer behavior as well as powerful optimization tools that can help maximize your profits. With its affordable pricing plans, it's definitely worth considering if you're looking to improve your Etsy shop's performance.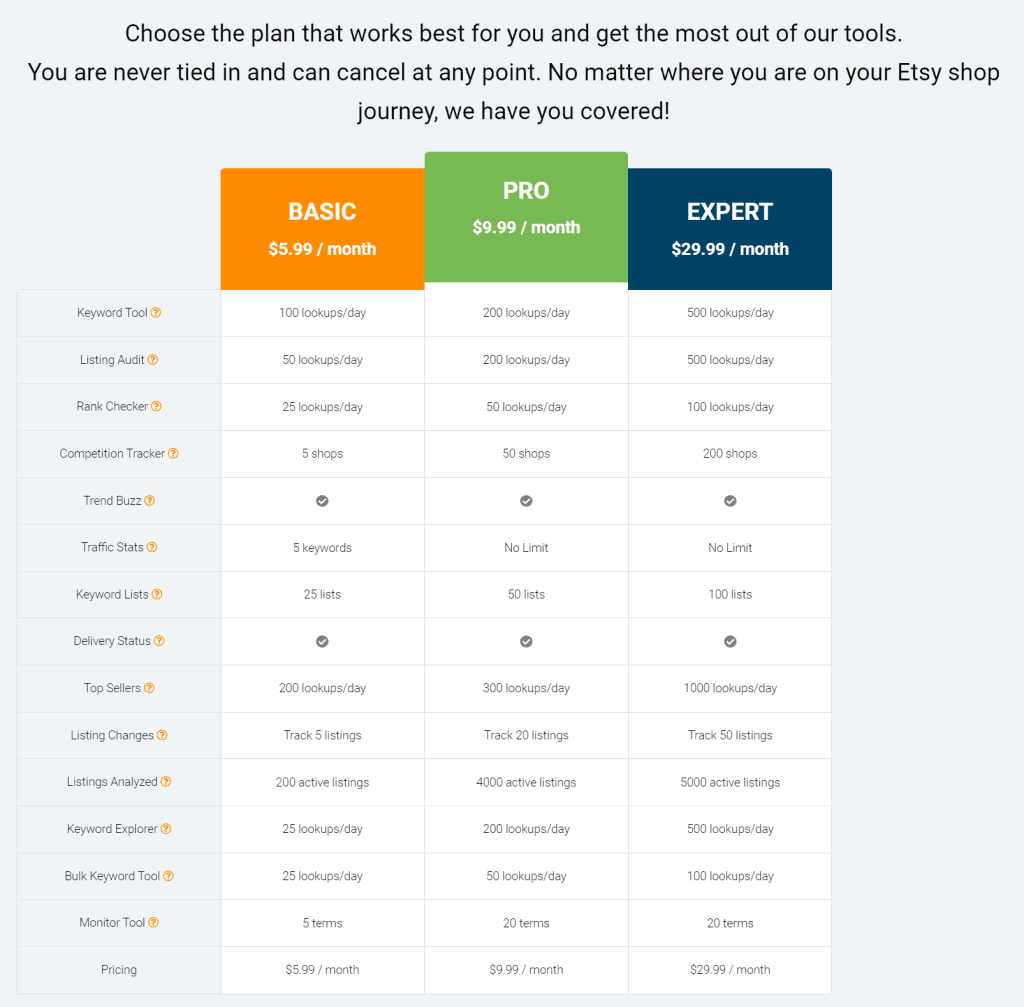 Free – $0.00month – Best for beginners & To Try eRanks features for free
Basic – $5.99month – Best for the average active Etsy seller
Pro – $9.99month – Best for advanced Etsy sellers
Expert – $29.99month – Best for professional researchers and analysts
Features And Tools Provided By Erank
Erank is a powerful tool created specifically for Etsy sellers. It provides an array of features and tools that help you optimize your Etsy shop, so you can better compete in the marketplace.
The first feature that Erank offers is keyword research. This helps you determine what keywords potential customers are using when searching for products like yours on Etsy, so you can make sure your shop is properly optimized to be found by them. Erank also provides detailed analytics reports with insights into the performance of your listings, including how they compare to other shops selling similar items. You can use this data to make adjustments to your shop to ensure it's as successful as possible.
Another helpful feature Erank offers is listing optimization. This helps you improve the visibility of each of your listings by analyzing the language used in titles and descriptions and suggesting ways to adjust it for better search engine rankings and higher click-through rates from shoppers. Finally, Erank also offers automated promotion tools that let you schedule promotional campaigns for specific items, so they appear in front of potential customers at the right time.
Erank is a great resource for Etsy sellers who want to increase sales and visibility on Etsy. With its comprehensive set of features and tools, Erank can help you maximize your chances of success on this popular platform.
Complete List Of Erank's Features
Perform keyword research for various platforms such as Etsy, Amazon, eBay and Pinterest
Analyze top listings for any specified keyword
Connect your shop and customize your user experience
Track your top keywords and their performance
View and sort listings by the number of images
See changes in listing performance
Find tags from up to 100 listings of any Etsy shop you choose
Highlight the performance of your listings and areas for improvement with analytical tools to help choose the right changes
Track whether your listings appear on the first two pages of Etsy for a given search term
Troubleshoot listings by comparing up to four head-to-head on various parameters such as price, tags, thumbnails and views
Save up to 2500 keywords alongside their search data that updates daily with options to color-code, sort and add notes
Find holidays and events from around the world for each month along with Etsy's Top Ten search terms for the same month last year
Convert keywords into hashtags for quick and easy posting on social media platforms
Browse eRank's database of more than 1,660 colors for inspiration and ideas on color names
Find the right category for your item to better optimize it for Etsy search results using machine learning algorithms
Analyze four keywords at once along with their Etsy and Google data to choose which ones to use in tags and titles
Use tools available for SEO housekeeping tasks such as finding and grouping listings by any keyword in titles or tags
Export data report that includes dates when listings were created or last updated
Perform a drill-down analysis available for each draft listing with tools and suggestions to help improve its SEO before publishing it
View a catalog of active listings on Etsy showing quantity available, item price, inventory value etc.
Access reports that show active listings that have one-word tags along with a link to fix them on Etsy
See which of your listings eRank found among the first 100 listings while performing random searches
Analyze any Etsy shop's listing details such as thumbnails, titles, tags etc.
View detailed sales figures from Etsy's Top 100 shops along with how your shop ranks among them
See how your items rank in an ad-free version of Etsy search results along with competitors' highest-ranked items
Access summary traffic stats that show how shoppers are finding your items through various sources such as Etsy search results or Pinterest etc.
How To Use Erank To Improve Your Etsy Shop
Erank is an online tool that helps Etsy sellers optimize their shop performance. It provides a comprehensive analysis of your shop, from overall ranking to individual keywords and product pages. With Erank, you can easily identify areas for improvement and take action to increase visibility and sales.
Erank's analysis includes metrics such as keyword rankings, search engine optimization (SEO), listing relevance, customer engagement, product page performance, and more. Knowing how your shop is performing in these areas can help you improve your visibility on Etsy. For example, if your product page isn't performing well, you can use Erank's insights to make improvements that will attract more buyers.
By optimizing the various aspects of your Etsy shop with Erank's help, you can boost visibility and sales. This tool makes it easy to identify where improvements are needed and take action quickly to get results. Whether it's improving SEO or increasing customer engagement, Erank can make a big difference to the success of your store.
Using the Erank Keyword Explorer
Keyword Explorer is a feature of eRank, a tool that helps Etsy sellers optimize their listings and rank higher on Etsy search. Keyword Explorer allows you to discover keywords that real shoppers are using to search for products on Etsy, and analyze their popularity, competition, and trends. You can also compare keywords across different countries and markets, and get suggestions for related keywords.
To use Keyword Explorer, you can access it from the main menu by clicking Tools and then Keyword Explorer. You can also click the Keyword Explorer button in the top left corner of your dashboard. Or, you can simply type the keyword you would like to analyze into the Get keyword ideas… field in the blue menu bar at the top of the page, and choose which country or market you want to target.
Once you enter a keyword, you will see a report that shows you various metrics such as monthly searches, competition score, click-through rate (CTR), cost per click (CPC), long-tail score, seasonality score, and trend graph. You can use these metrics to evaluate how effective a keyword is for your niche and goals. You can also see a list of related keywords that you can explore further by clicking on them.
Keyword Explorer is a powerful feature that can help you find the best keywords for your Etsy listings and improve your SEO strategy. By using Keyword Explorer regularly, you can stay on top of changing customer preferences and market trends.
Using the Keyword Tool
The Keyword Tool is a feature of eRank that helps you find and analyze keywords for your online marketplace listings. It shows you data such as monthly searches, competition, click-through rate, and suggested prices for any keyword you enter. You can also compare keywords across different countries and platforms such as Etsy, Amazon, eBay, Pinterest, and Google Shopping.
To use the Keyword Tool, you need to follow these steps:
In the Main Menu of eRank, select Tools and then Keyword Tool.
Type any keyword into the Enter keywords field in the blue search bar and use the drop-down menu next to it to select either which country you would like to view data from.
Access your search history via the Previous searches drop-down menu on the right.
View the results table below the search bar that shows various metrics for your keyword and related keywords.
Click on any column header to sort the results by that metric.
Use the filters above the table to narrow down your results by platform or category.
Click on any keyword in the table to see more details such as top listings, trends, tags, and colors for that keyword.
Using The Rank Checker Tool
The Rank Checker tool is a feature of eRank, a website that provides SEO, keyword research, top seller and trend tools for Etsy sellers. The Rank Checker tool allows users to view what an Etsy shopper's search results would be without promoted listings or Etsy's context-specific ranking algorithm. This way, users can see how their listings rank based on keywords alone.
The tool also provides keyword statistics such as monthly searches, competition level and click-through rate based on the past 12 months of data. The Rank Checker tool can help users optimize their listings for better visibility and performance on Etsy.
Using The ROI Calculator
The ROI Calculator is a tool that helps Etsy sellers measure the return on investment (ROI) of their Etsy ads. It calculates how much profit a seller makes from their ads compared to how much they spend on them. The tool can help sellers optimize their advertising budget and strategy by showing them which keywords, listings, and categories perform best for their ads.
To use the tool, sellers need to enter some data from their Etsy shop and their advertising stats. The tool will then display the total revenue, total cost, total profit, and ROI percentage for their ads. The tool also allows sellers to filter the results by keyword, listing, or category to see more detailed information.
Using the Profit Calculator
The eRank profit calculator is a tool that helps Etsy sellers estimate their profits and expenses for each listing. It allows sellers to enter various data such as the price, shipping cost, discount, materials cost, labor cost, fees and taxes of their products and see how much they will earn after deducting all the costs.
The tool also shows the profit margin percentage and the break-even point for each listing. The eRank profit calculator can help sellers to price their products competitively, optimize their expenses and increase their profits .
How To Get Started With Erank
To get started with eRank, you'll need to create an account by registering for a free account on the platform. Once you have an account, you can integrate the tool with your Etsy store using the easy-to-use dashboard.
Linking your Etsy store to eRank is a simple process that can be done by following these steps:
Log in to your eRank account and your Etsy shop.
Click on the Settings option in the upper right corner of your eRank account.
Go to the Your Shops option.
Press the Connect Another Shop button, which will lead you to your Etsy shop.
Approve the notification by clicking Allow Access.
After linking your Etsy store with eRank, you can start using the tool to analyze your store's performance and identify areas for improvement. By using the data provided by eRank, you can optimize your listings, improve your SEO, and increase your chances of appearing in the top 100 listings. In summary, by following these simple steps, you can take your Etsy store to the next level with eRank.
Using the listing Audit
The Listing Audit tool is a feature of eRank that helps Etsy sellers optimize their listings for better visibility and performance. The tool analyzes various aspects of a listing, such as title, tags, description, photos, price and SEO score, and provides feedback and suggestions on how to improve them. The tool also compares the listing with similar ones on Etsy and shows how it ranks among them. By using the Listing Audit tool, sellers can identify and fix any issues or gaps in their listings and increase their chances of getting more views, favorites and sales.
Using the competitors listings Tool
The Competitor Listings tool from eRank is a feature that allows you to analyze the listings of your competitors on Etsy. You can use this tool to find out what keywords they are using, how they price their products, how many views and favorites they get, and how they rank on Etsy search results. This tool can help you to identify gaps and opportunities in your own listings, optimize your SEO strategy, and monitor your competitors' performance over time.
These are just some of the main features and how to use them. Take a look at the ERank website for more as they have a comprehensive guide and FAQs. Or why not just give the software a try for yourself as it is free to give it a go so you have nothing to lose and it will help propel your Etsy store forward.
Alternatives To Erank
For those who are looking for an alternative to Erank, there are plenty of options out there. One is to invest in digital marketing tools such as PPC and SEO that can help drive more traffic to your products on Etsy. Other methods include utilizing social media platforms like Instagram, Twitter, and Facebook to promote your shop and items. Additionally, you could also consider working with influencers or bloggers to build awareness about your store and products.
It's also worth considering investing in paid advertising on Etsy itself. There are a variety of options available including promoted listings, targeted ads, and sponsored search ads that can help increase visibility for your shop on the platform. Additionally, you could also consider optimizing your product listings by using relevant keywords and making sure they are accurately categorized so customers can easily find them when searching.
Moreover, it's important to make sure that the images you use on the platform reflect the quality and uniqueness of your items. This will help draw attention to your products and encourage shoppers to buy from you instead of other sellers. Additionally, offering discounts or promotions can be useful in driving sales and helping customers get the most value out of their purchase. With these strategies in place, you should be able to have success selling on Etsy without relying on Erank.
Alternative Tools
SE Ranking
A cloud-based, all-inclusive search engine optimization (SEO) platform for webmasters. It offers a complete set of tools for tracking keyword positions, site auditing and analyzing competitor SEO strategies and PPC strategies.
Marmalead
Similar tools to eRank such as listing audits and tools to control your SEO on Etsy. Marmalead's dashboard is slightly more complex and advanced.
EverBee
An SEO tool that allows Etsy users to drive sales by boosting their SEO ranking. Simply connecting your account to EverBee affords Etsy sellers the ability to improve both the estimated sales algorithm as well as the data it provides. It is an efficient market research tool that helps Etsy sellers boost their business
Pros And Cons Of Using Erank
Erank is an online tool developed to help Etsy shop owners optimize their search engine performance. It helps them get noticed by potential customers and increase their sales. While it does have its benefits, there are also some drawbacks to using Erank.
The pros of using Erank include better visibility for the shop on Etsy, improved SEO performance, and access to advanced analytics tools. The tool can help optimize a shop's SEO by providing detailed information about keywords, backlinks, and competitor analysis. This helps shop owners target the right audience and make sure their products are seen by potential customers. Additionally, Erank also provides key insights into how well a shop is performing on Etsy and which areas need improvement.
On the other hand, there are some negatives associated with using Erank as well. It can be expensive depending on the subscription plan chosen, and some users may find it difficult to use or understand at first. Furthermore, Erank cannot guarantee increased sales or improved rankings; it merely provides data-driven insights that can help in making informed decisions about marketing efforts on Etsy.
Overall, Erank is a useful tool for Etsy shop owners who want to take their business to the next level. However, it's important to weigh up the costs and benefits before deciding whether or not to invest in this service.
Tips For Getting The Most Out Of Erank
The Erank tool is a great way to boost your Etsy shop's visibility and get more sales. To get the most out of it, there are some tips you should keep in mind.
First, it's important to make sure that all of your products are properly tagged and categorized so that they will show up in Erank searches. This means taking the time to review each individual product and make sure they're correctly labeled according to keywords, category, and other relevant information.
Second, take advantage of Erank's sorting capabilities by ensuring that your products are listed with accurate descriptions, prices, quantity available in stock, etc. This will help customers find exactly what they're looking for more quickly. Additionally, use keywords in your product titles and descriptions to increase the likelihood that shoppers will see your listing when searching for specific items on Erank.
Finally, remember that you can use Erank as an advertising platform to draw attention to any promotions or special offers you have going on. Highlight these promotions by creating attractive banners and images for them – this will help capture customers' interest and encourage them to click through and purchase from your shop.
Customer Reviews & Testimonials
It's important to consider customer reviews and testimonials when evaluating Erank. Knowing what other customers think can give you a better idea of how the service works and whether it is worth the money. With this in mind, it's worth taking a look at what others have to say about Erank.
Many customers report that Erank has been instrumental in helping them increase their visibility on Etsy. It has allowed them to get their products in front of more potential buyers, resulting in more sales and profits. The keyword optimization feature has also been praised by many users, as it helps them target specific keywords more effectively and increase their chances of being found by shoppers.
Overall, customer reviews suggest that Erank is a great tool for Etsy sellers who are looking to boost their visibility and profits. It provides helpful features such as keyword optimization and analytics, making it easier for sellers to optimize their listings for maximum impact. With its affordable pricing, Erank is definitely an investment worth considering for any Etsy seller looking to get the most out of their business.
Final Thoughts & Summary
In conclusion, Etsy's eRank is a great tool for sellers who want to increase their visibility and sales. It provides an easy way to track your shop's performance, as well as giving you the ability to compare yourself with competitors. It's also relatively affordable compared to other services that offer similar features. However, it's important to remember that success on Etsy isn't guaranteed with eRank. You still need to take advantage of other marketing strategies and put in the work to make sure your shop stands out from the competition.
Overall, eRank can be a great asset if used correctly. It can give you valuable insight into how customers are interacting with your shop and allow you to adjust your strategy accordingly. However, it shouldn't be seen as a magic bullet for success – hard work and dedication are still necessary if you want to build up your business on Etsy.
So is eRank worth it? Ultimately, whether or not it's right for you depends on what you're looking for and how much time and effort you're willing to invest in making your business a success. If you have the resources available, using eRank could definitely help improve your visibility and increase sales – but only if used alongside other tactics like SEO optimization and product promotion.
Frequently Asked Questions
Is Erank Compatible With Other Ecommerce Platforms?
Erank is a software platform that helps ecommerce businesses manage their online presence. It's compatible with most major ecommerce solutions, including Etsy. Erank can be used to optimize product listings and increase visibility in search results, as well as to monitor and respond to customer reviews.
Using Erank on platforms like Etsy can be beneficial for businesses looking to boost sales and grow their customer base. It enables sellers to gain insights into their customers' preferences and interests, as well as identify potential new markets. With its detailed analytics features, Erank also makes it easy to track performance metrics such as conversion rates, page views, and average order value.
Erank is also an affordable solution for ecommerce businesses of all sizes. It offers plans at various price points that are tailored to each business's needs. Plus, the user-friendly interface allows for quick setup and deployment, so you can start taking advantage of the platform right away. All in all, Erank is a great tool for managing your online presence and boosting your sales on Etsy or other ecommerce platforms.
Does Erank Offer A Free Trial?
Yes, Erank offers a free plan with no time limit, so you can try out the free version before you decide whether it is worth it to upgrade to one of the higher tier plans. Customers can take advantage of this free plan to test out the software and see if it meets their needs. The free plan provides customers with access to all of Erank's features including keyword research, analytics, competitor analysis, and more, it just has limits on the number of lookups and keyowrds. Customers are also able to view reports on their performance so they can make informed decisions about whether or not they should continue using Erank after the trial ends.
What Type Of Support Does Erank Provide?
Erank offers a range of customer service options for those who need assistance with their Etsy store. The team is available by email, phone, or chat during regular business hours and customers can also reach out on social media. They also offer an extensive list of helpful tutorials and other resources on their website to help customers get up to speed quickly.
For those who are looking for more hands-on support, Erank offers a dedicated account manager. This individual works with customers one-on-one to ensure that they make the most out of their Erank subscription and maximize their potential on Etsy's marketplace. Account managers are knowledgeable about best practices in digital marketing and can provide personalized advice tailored to each customer's unique needs.
Overall, Erank provides an impressive array of customer support options that can help businesses boost their performance on Etsy's platform. From detailed tutorials to dedicated account managers, Erank has everything necessary for businesses to achieve success on Etsy's platform.
Are There Any Additional Fees For Using Erank?
When it comes to using Erank for Etsy, one of the main concerns is whether or not there are any additional fees. This is an important question to ask before deciding if Erank is a worthwhile investment. Fortunately, there are no additional fees associated with using Erank. All services provided by Erank are included in the monthly subscription fee.
In addition to the lack of extra fees, Erank also offers several features that make it easier to manage an Etsy shop. It provides users with access to analytics tools that can be used to track sales and optimize product listings. This can help Etsy shop owners improve their visibility on the platform and increase their sales.
Erank also provides customer service via email and live chat so users can quickly get answers to their questions. The customer service team is knowledgeable and helpful, making it much easier for Etsy shop owners to resolve any issues they may have with their store or products.
Overall, using Erank for Etsy has several advantages that make it worth the subscription fee. It eliminates additional fees and provides valuable features such as analytics tools and customer service support that make running an Etsy store much easier.
How Long Does It Take For Changes To Be Seen In My Etsy Shop After Using Erank?
In order to understand how long it takes for changes to be seen in your Etsy shop after using Erank, it's important to first understand the process behind optimizing a shop with Erank. The process starts by analyzing customer data and then making recommendations based on that data. Once the recommendations are made, they need to be implemented into the shop before any changes can be seen. Depending on how many recommendations are made and how quickly they are implemented, this process can take anywhere from hours to days.
Therefore, it's safe to say that using Erank will not provide immediate results in terms of seeing changes in your Etsy shop. However, if you are willing to invest some time into understanding the product and implementing its suggestions, then you should see positive changes within a few days or weeks. With patience and dedication, you should soon begin to see measurable improvements in your Etsy store traffic and sales over time.
Conclusion
In conclusion, Erank is a great tool for Etsy shop owners looking to increase their visibility and sales. While it is not compatible with other ecommerce platforms, it does offer a free plan so you can try it out before investing any money. Plus, they provide extensive support should you run into any issues while using the software. There are no additional fees for using Erank, but changes may take some time to be seen in your Etsy shop after implementation.
Overall, if you're an Etsy shop owner looking to improve your presence and gain more customers, Erank can be a valuable asset. It's easy to use, affordable and provides the support you need along the way. I'd recommend giving it a try if you're serious about growing your business on Etsy.
In the end, whether or not Erank is worth it depends on what your goals are and how much time and effort you're willing to put into making sure it works for you. With its impressive features and helpful customer service team, I'm sure that most Etsy shop owners will find Erank beneficial in achieving their desired results.