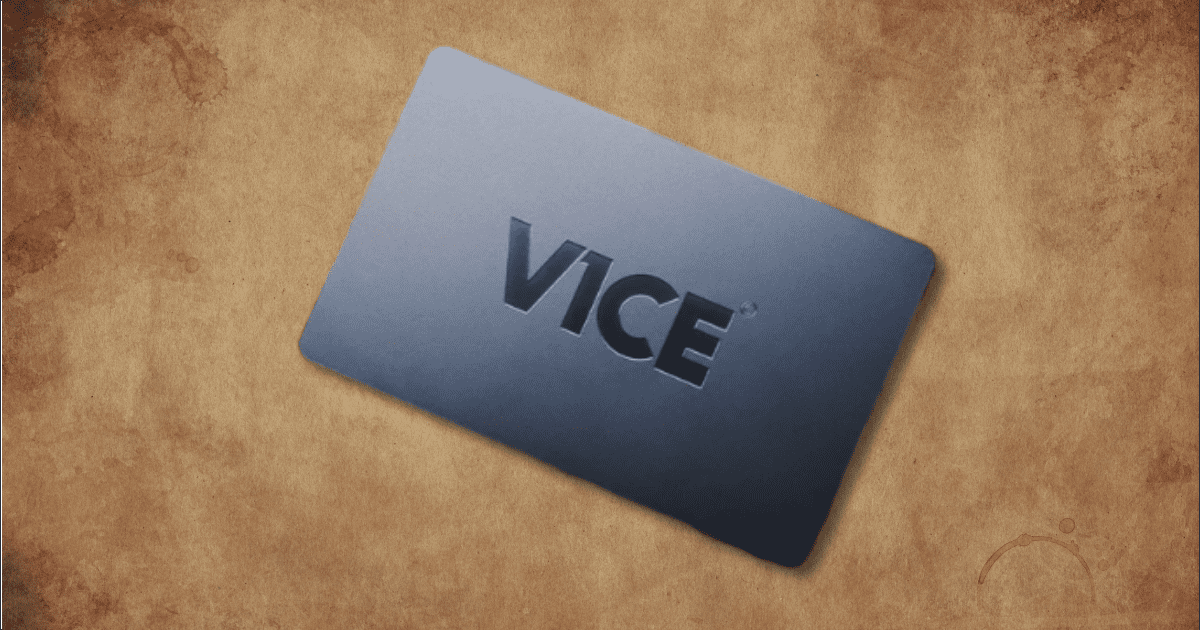 V1CE Cards – Why They Are Great?
V1ce Digital Business Cards are a great alternative to traditional business cards
V1ce makes an Impressive First Impression!
Making a good first impression is essential for those in business. Whether you are an entrepreneur, salesperson, or professional, having a quality business card to share with potential customers and clients is essential. When it comes to choosing the right business card, V1CE has emerged as the new standard. With their strong yet lightweight materials and range of customization options, V1CE business cards offer more features than traditional paper-based cards. Let's take a look at why V1CE is the perfect choice for entrepreneurs and salespeople alike.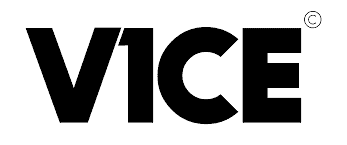 Our Take
Discover the beauty and quality of the V1CE card! If you're in search of a business card that stands out, this one is for you. With its stunning designs and superior materials it's a must-have for anyone who values both style and substance. The metal card looks great!

You don't need an app or subscription to use your V1CE card so that makes the initial price more bearable.
They ship anywhere and have a 30 day money back guarantee so I would recommend you try one for yourself
| | |
| --- | --- |
| Best For | Looks & style |
| Price | On the higher side in comparison to others |
| App | Great UI, many features & templates |
| Reviews | Great reviews |
Digital Business Cards Are The Future
V1ce Cards are a great option if you are in the market for a digtial business card. Or even if you're not, you probably will be after giving one a try and finding out more about why they are so great and how they beat traditional business cards.
A digital business card is an electronic representation of a person's professional identity and contact details. It can be used to quickly and easily share information with potential customers, clients, employers, and other important contacts. Unlike traditional paper-based business cards, digital business cards are highly customizable in terms of content, design, and even animation. They can also be updated more quickly and conveniently than paper-based cards.
Click the link to read my in-depth write-up and find out more about what is a digital business card
How Do Vice Business Cards Work?
V1CE digital business cards offer an innovative and efficient way to share your contact information. Each card contains an NFC chip that wirelessly transmits your information to any phone capable of reading it. Those without NFC capability can take advantage of the QR code on the back of the card, which quickly delivers all your details without needing to manually enter it. With one simple tap or scan, you can quickly share your contact information and make sure you never miss out on a potential connection!

No app is needed, and Vice works with the following phones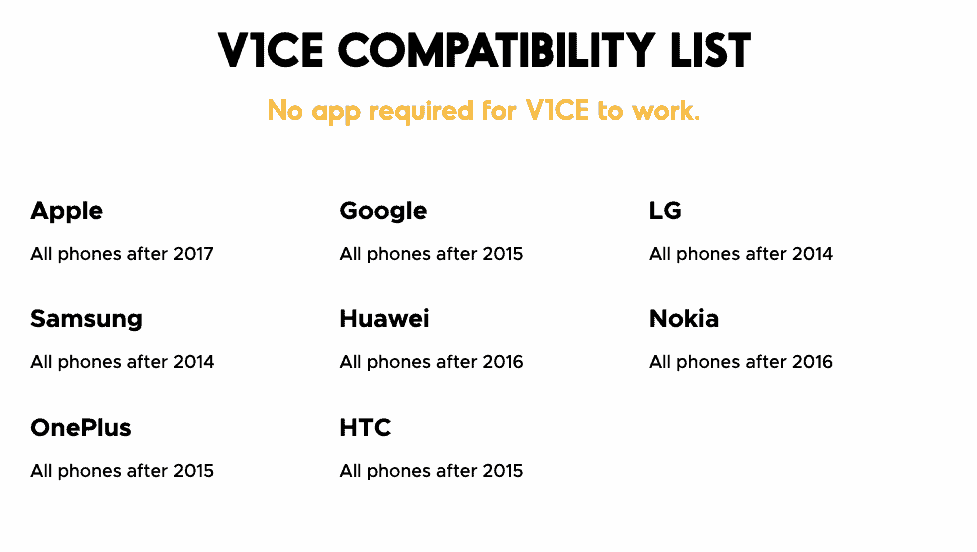 Benefits Of Using V1ce Business Cards
Rewards Program:
Unlike traditional paper-based cards, V1CE business cards offer a rewards program that can help you save money. For every purchase of V1CE's card services or products, you receive rewards points. These points can be redeemed for discounts on future purchases.
Durability:
While traditional paper business cards may be prone to tearing or fading, V1CE cards are designed to be durable and long-lasting. The strong material protects the card from wear and tear, ensuring that your contact details remain intact for longer.
Customer Service:
V1CE provides excellent customer service with a team of professionals ready to answer any questions you might have. Whether it's help setting up your account or technical issues, they are always available and willing to assist.
Security Features:
Safety is a primary concern when it comes to sharing your contact information. V1CE offers several security features, such as data encryption and two-factor authentication, that guarantee your personal information remains secure.
Cost Effective:
V1CE business cards are a cost-effective option for entrepreneurs and salespeople looking for quality cards without breaking the bank
High-Quality Materials:
V1CE business cards are made from high-quality but lightweight materials that will last longer than traditional paper business cards. This means that your contacts won't have to worry about wrinkling or tearing their cards, which might otherwise lead them to discard it completely. Furthermore, these cards also have a higher level of tactility when compared to paper-based ones, allowing users to feel the raised lettering and logo designs on them for a truly memorable experience.
Easy Customization Options:
V1CE also offers more customization options than traditional paper-based business cards. With V1CE business cards, you have complete control over how you present yourself. You can customize every aspect of the card Users can choose from multiple colors and designs when designing their own V1CE card – allowing them to create something that truly stands out from the crowd. Not only does this make it easier for people to remember contact details – but it also helps you make an unforgettable impression with anyone you meet!
Integrated QR Code Technology:
Finally, one of the most notable benefits offered by V1CE is its integrated QR code technology – which allows customers to scan your contact information directly into their phones without any manual typing required! This not only saves time but also eliminates any guesswork or confusion that may come up when trying to read handwritten information on traditional paper business cards. In addition, having QR codes on your card makes it easy for customers to store your contact information in their phone's address book – ensuring they never have trouble getting back in touch with you!
Design:
V1CE business cards are designed with the modern user in mind and offer a sleek design that looks professional yet stylish. With a variety of colors to choose from, users can create cards that best represent their personal brand. The colors range from muted pastels to bold and vibrant hues, allowing the user to find exactly the right look they
Benefits of Vice Card At A Glance:
Easily share contact information with others.
Make a great first impression with a professional digital business card.
Feel more confident networking and making connections.
Stand out from the crowd with a unique, personalized digital business card.
Have the convenience of carrying a business card wherever you go.
Reach more people and increase your chances of making valuable connections.
Make an impact with a modern, high-quality digital business card.
Make your information easy to access and share.
Stay up-to-date with the latest technology trends.
Give a lasting impression that sets you apart from the competition.
Quickly follow up on networking opportunities.
Make a great impression at business meetings and events.
Free up valuable time for more important tasks.
Simplify the process of exchanging contact information with others.
Save money on printing costs.
Reduce your environmental impact by avoiding paper waste.
Stay one step ahead of the competition with a digital business card.
Make it easier to keep track of your contacts.
Establish a memorable, professional presence online.
Connect with people in different countries and cultures quickly and easily.
Reach new business opportunities faster.
Have the convenience to update or change your contact information quickly.
Gain instant credibility with potential partners or employers.
Increase your reach and visibility on a global scale.
Stay connected with contacts without worrying about data storage or privacy.
How much do V1ce Cards Cost?
Using V1CE business cards may cost a bit of money. You might have to pay for the materials used to make the card, or you might have to pay for printing or shipping. There could also be fees for using their rewards program, but it will help you save money in the long run.
Pricing:
Black Metal Hybrid One: $123.00
Silver Metal Hybrid V2 Business NFC card: $185.00
Black PVC One Card: $50.00
Black Matte PVC Business NFC card: $50.00
Black Bamboo ECO Card: $62.00
White Metal Hybrid V2 One Business Cards with NFC: $155.00
Bamboo ECO One Card: $50.00
White PVC One Card: $50.00
Walnut Bamboo ECO One NFC card: $50.00
Get the most up to date V1ce costs here
With V1ce, you have the perfect opportunity to create and share digital business cards without any strings attached. No subscription fees or hidden costs – just sign up for free with your email address or social media account and get ready to wow others with your personal branding!
Simplicity & Peace of Mind:
With V1CE, forget the hassle of downloading an app or subscribing – it's as easy and convenient as can be. Plus, you have no limits on where your business cards will reach – shipping is completely unrestricted! And if for any reason there are concerns about satisfaction with the product results? No problem: They offer a 30-day money-back guarantee to ensure complete peace of mind when ordering. Lastly, updating information doesn't mean starting from scratch every time; simply update in real-time so that printing new cards isn't necessary each time something changes!
Recent V1ce Review Summary – What Their Customers Say
Reviews of V1ce Business Cards show that customers are highly impressed with their quality and service. Many praise the business cards for helping to create a positive impression, build rapport, and make a great conversation topic with clients. Furthermore, customers appreciate the worldwide shipping, no-app integrations, and 100% money-back guarantee provided by V1ce. Most rave about the innovation and ingenuity in the business card space that V1ce provides and recommend it as an excellent choice for anyone looking for a modern NFC business card.
What Customers are Saying…
How To Get A V1ce Business Card
Get the virtual business card you've been waiting for with V1CE! The process is simple; all it takes is a few clicks to get your own personalised digital version of everyone's favourite networking accessory. After purchasing any product from their vast selection, create an account so that designers can review your design brief before crafting something perfect for you. Once approved, they'll print out cards and send them directly to you – giving access to edit multiple businesses via the secure login page. Start making connections today – through V1CE!
Final Thoughts
For entrepreneurs and salespeople looking for a professional look that stands out from the crowd, V1CE is the perfect choice. With its strong yet lightweight materials and array of customization options, V1CE provides more features than traditional paper-based business cards while offering an integrated QR code technology that makes it easier for customers to remember your contact details without any guesswork or confusion involved. Ultimately, having a V1CE business card can provide you with an unbeatable first impression every time!