Popl Digital Business Card Review & Guide [2023] Are They Worth It?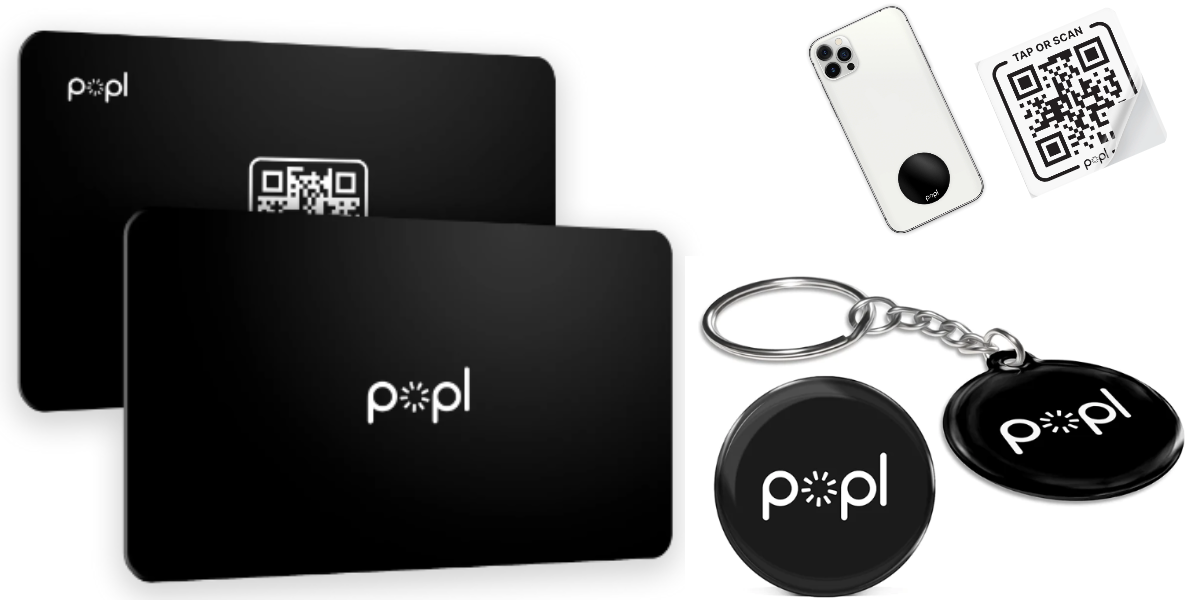 Popl is a digital business card, a modern take on the trusty business networking tool – the traditional business card. You know the ones…printed on boring cards, all the same size and handed out on mass, to only be politely put away in a pocket, folder, or bottom of a drawer never to be seen again, perhaps even filed straight in the bin! Now with Popl you don't need to worry about that and never need to carry around stacks of business cards or fumble for a pen and paper again when exchanging information with a new contact.
What Is A Digital Business Card?
A digital business card is an electronic version of a traditional paper business card. Digital business cards are often more convenient and environmentally friendly than their paper counterparts, and they can also be more easily customized and personalized.
Many businesses now offer digital business cards, and they are becoming increasingly popular with consumers.
Related: The Future Of Business Cards: Why A Digital Business Card Is The Way To Go & How To Get One
Why Are Digital Business Cards Becoming So Popular?
Easily shared and stored.
Digital business cards can be sent electronically to potential clients and customers, and they can be saved on a mobile device or in a cloud-based storage system. This makes it easy to keep track of contact information and to share one's own contact information with others.
Easily customizable
Digital business cards can include links to a website, social media profiles, or even a video greeting. This allows businesses to create a card that is tailored to their brand and that stands out from the competition.
Environmentally friendly
than traditional paper business cards. Digital business cards require no paper or ink, and they can be recycled or reused if necessary. This makes them a more sustainable option for businesses and consumers alike.
Cost Effective
No need to print 1000's of business cards. Just buy one. They are also easily editable so there is no need to reprint them if your info changes or you just want to improve some information.
Trackable
In the past you wouldn't have known if your efforts to print and hand out cards was worth it or if they just ended up in the bin. Track all of your clicks and views so you can see whether people are using the information, making your networking efforts worthwhile.
Uniquely Yours Without Constraints
You are free to include any information, include as much info as you would like, including social links and videos. You're not confined to just the space of a traditional business card. So your card won't look cluttered.
What Is Popl?
Popl is a leading provider of digital business cards. With Popl, you can create a digital business card that can be exchanged with others with just a tap. No more fumbling around for a pen and paper – simply tap your phone to the other person's Popl Phone Tag, Badge, Band, or Card, and your information will be exchanged instantly. And if you're worried about losing your physical product, don't worry – each one comes with a QR code that can be scanned to retrieve your information.
Popl cards are stylish and modern, and they come with a number of built-in features that make them really stand out from the crowd. For example, Popl cards come with integrated Google Maps directions, so recipients can easily find your office or meeting location. They also includeSocial Media links, so people can connect with you on LinkedIn, Twitter, and other platforms. And if you're exchanging business cards with someone who doesn't have a smartphone, no problem – Popl cards can be printed out as well!
Keep all of your contacts organized in one place with the Popl app. You can easily add notes about each person you meet so you never forget an important detail again. Plus, the app makes it easy to keep track of upcoming events so you can stay connected with the people who matter most.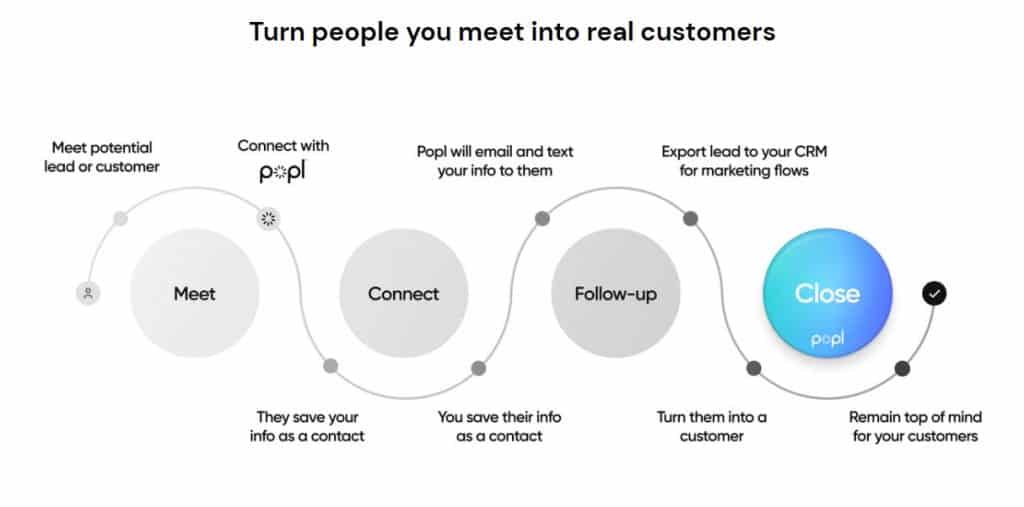 What Different Types Of Digital Business Cards Do Popl Offer?
Popl Tags, Stickers & Flats
Popl tags or the little stickers that you can place wherever you like offer a unique and creative way to customize your digital devices! Choose from their standard template or add in your company logo for extra personalization. With an array of fun colors and styles, you can choose the perfect tag to match any phone case. Be sure not apply them on leather or silicone surfaces, as well clear from charging rings such as MagSafe. Other than that these are incredibly easy-to-use tags with unlimited potential when it comes pimping out gadgets!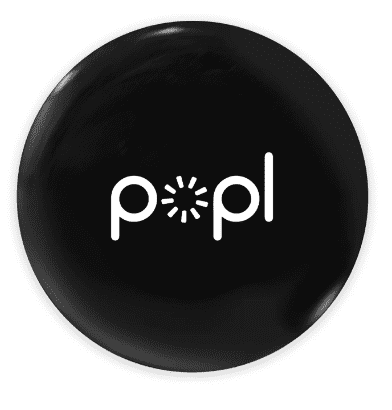 Digital Business Cards
This one will feel the most like a traditional business card.

Their innovative business card comes in three stylish, eye-catching shades – prism, white and black.
Showcase your information with a QR code that allows recipients to scan even if they don't have the latest phone or the NFC function isn't working.
Crafted from long lasting premium polyvinyl for an elegant look – this is one business card that won't be forgotten!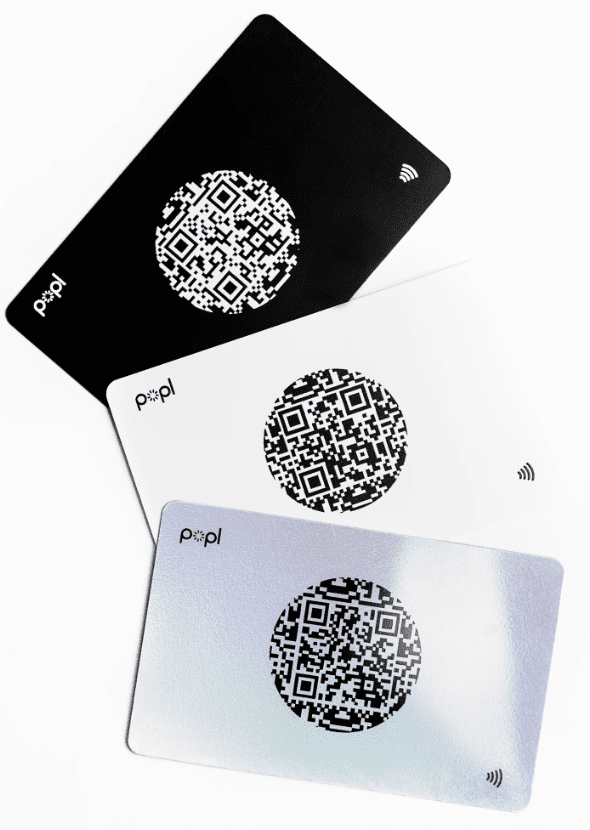 Popl For iPhones
For Iphones you have 3 options. You can just use the normal Popl tags that are offered. Or one of these –
The Iphone Card attached to the back of your Iphone. No sharing or swapping of apps required! Your swift, digital business card attaches to your iPhone and packs all the features you need. Ready in a flash – It's 3 times faster than the Popl Dot – your contact info is delivered without another's app download. And don't worry about it being too bulky on their phones; its discreet design measures just over 2 inches by 1 inch for an oh-so subtle appearance.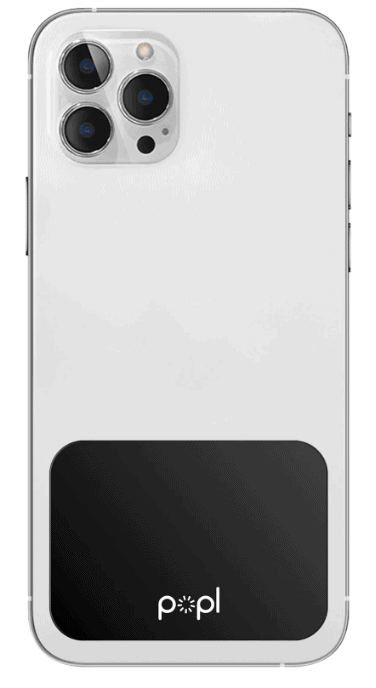 You may not know it but your iPhone has a special superpower and it's called MagSafe! This magnet-powered feature allows you to easily attach cases, share audio or data with other phones, and wirelessly charge your phone – making life just that bit easier. Now you can also use Magsafe with Popl.
MagSafe technology allows for a convenient, residue-free way to share information. The Popl digital business card offers an innovative solution; its X1 Chip makes sharing info easy with no adhesive needed – simply attach it to the back of your phone using Magsafe! It only works with iPhone 12 or newer so don't forget that if you're still holding onto an older model, you'll need a compatible case before getting started with this unique gadget. Also Android is not supported but you can of course just use the regular NFC.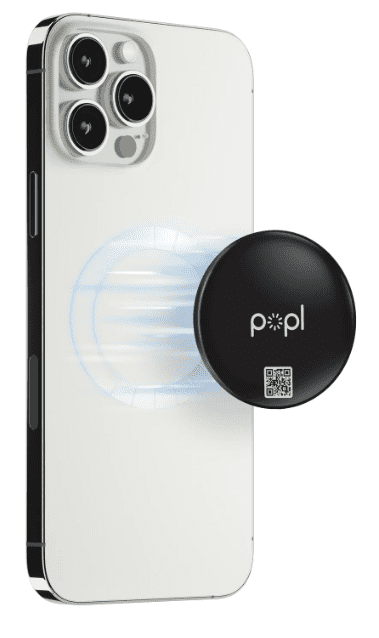 Premium Black Stainless Steel Metal Card
Get ready to turn some heads with the Popl Metal Card. Crafted from high-quality stainless steel and available in sleek black, this card is not only strong but also looks stunning. Plus, it's packed with innovative features like the revolutionary X1 Popl Chip – an NFC tag that allows you to share your contact information effortlessly by tapping on a compatible smartphone or scanning its QR code! And thanks to PopCode laser engraving technology, all info stored within will remain legible no matter how much wear and tear affects your metal card down the road.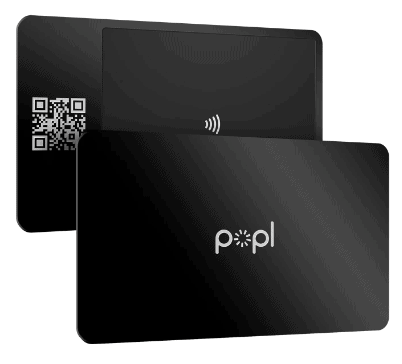 24k Gold Popl Card
Upgrade your everyday business cards to something extraordinary – 24k Gold Popl Business Cards. These luxurious, state-of-the art products come with genuine gold plating and the latest in Popl technology. With a built-in PopCode on the back for easy sharing, these premium quality cards will have you making an unforgettable impression all over town!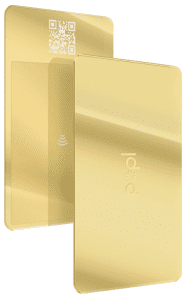 Badges
Get creative and make a statement with Popl business card badges! Made of top-of-the line polyvinyl, these professional products come in customizable or standard varieties. Impress by including your logo, name, and title on yours (optional). Use the advanced QR code – known as PopCode – for quick sharing at meetings or events. Plus you'll get an extra premium badge holder + retractable lanyard when you order one today! Don't wait too long; delivery takes two to three weeks.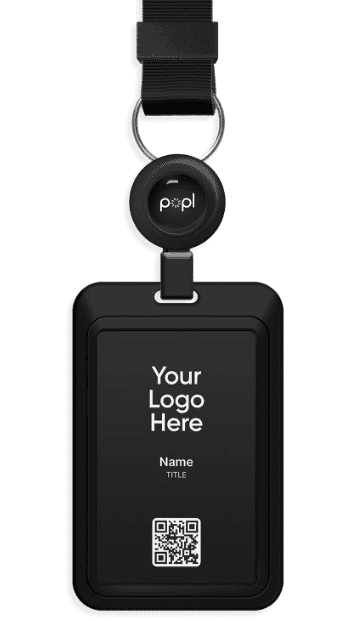 Writbands
Got places to go and people to meet? Make sure you're connected with Popl Band, a wristband made from soft-touch silicone that stores all of your digital business cards. With one tap or scan, you can easily share them with anyone who asks – no batteries required! So the next time networking is on your agenda, don't forget the power of Popl Band – always ready for connection wherever life takes you.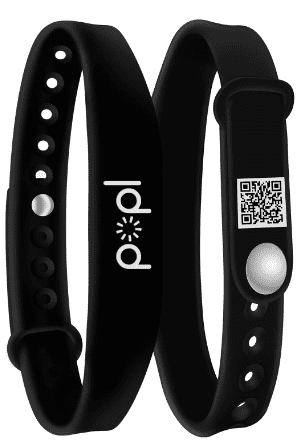 Apple Watch Band
Keep in touch without any hassle while on the go with Popl watch bands for your Apple Watch! Crafted from premium soft-touch silicone, these bad boys are as comfortable to wear and come equipped with integrated Popl tech. Don't worry about size either – just take a peek at the back of your device so you can find the one that matches in mm's that's tailor fit for you!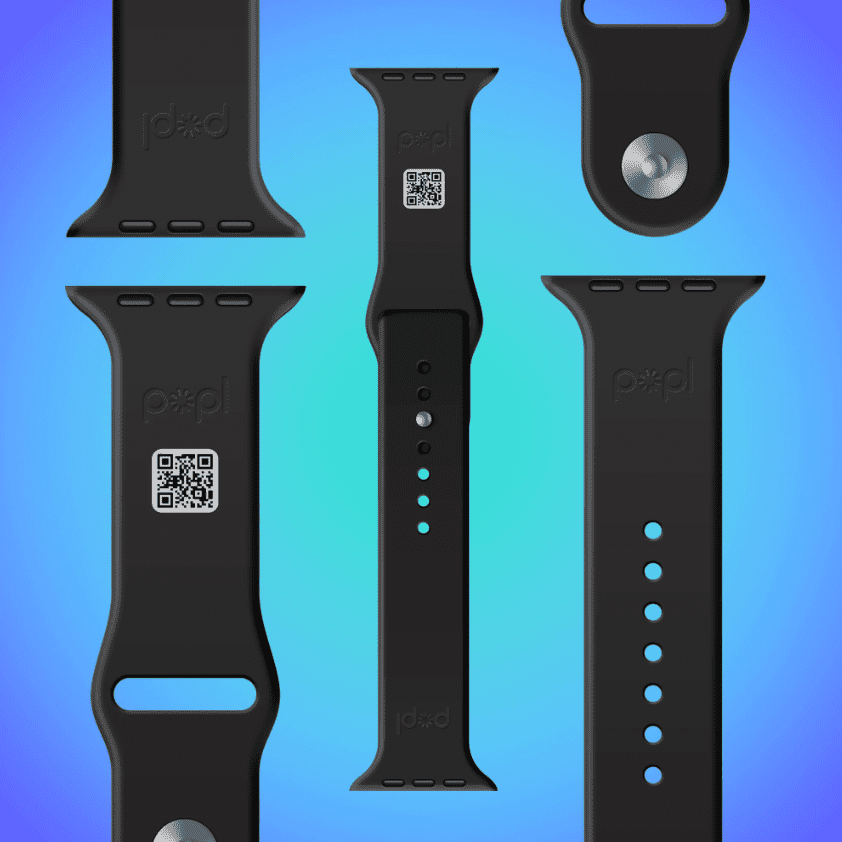 Keychains
No more rummaging through drawers in search of your business cards! Popl Keychain is here to save the day. With a digital card on your keys, purse, or even backpack – you'll always be prepared for networking opportunities. Plus, with 6 different colors available, there's something that fits every style perfectly!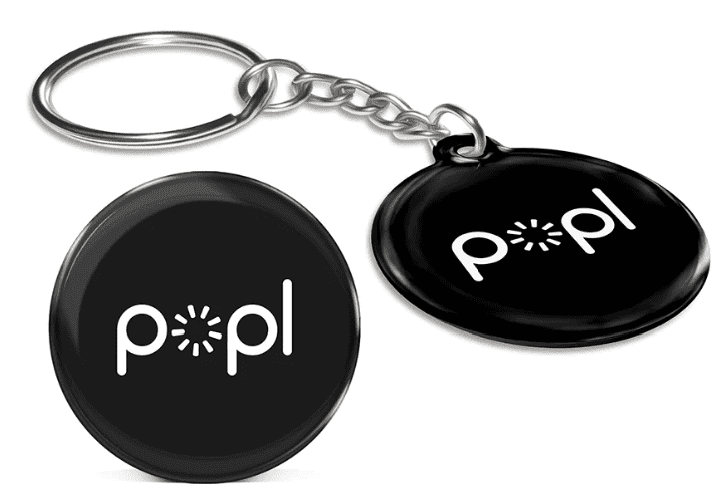 Popl XL
Ready to level up your customer service? Popl XL is the perfect device for businesses who want an easier way to connect with their customers. Just stick it onto any surface and watch as contactless payments, 5-star reviews, social media follows, website visits – and more! – send your business into hyperdrive. The perfect device to help your following and business grow!
How Does Popl Work?
Activate the Popl Tags Or Cards
When you receive your tag or card hold it up to your phone and activate.
Create Your Digital Profile
This is the fun part, create away and add all of your details and links
Share Your Profile
Share contact info with just a single tap on the back of a contacts phone. It will prompt the user to open up the profile in their browser.
Once it's opened, they can then click "Exchange Contact" if they don't have the Popl app.
Hitting this button will add all of your business details that you have created into their Contact list.
You can also send your QR code or your profile link via email, text, or social media platforms.
How Much Does Popl Cost?
There are several different products and pricing options
The standard card is $8 and a custom card is $48. The product options and prices can be found on the pricing page of Popl's Website. Also if you order in bulk, you can get a discount on the total cost. The most expensive product is the 24K Gold card, which costs $160.
Is there a monthly fee?
Yes – However you cna can access the free features of the app without the monthly fee. The pro services have a monthly fee of $7.99 per month. They also have a 2 week free trial available.
Popl Pro Features: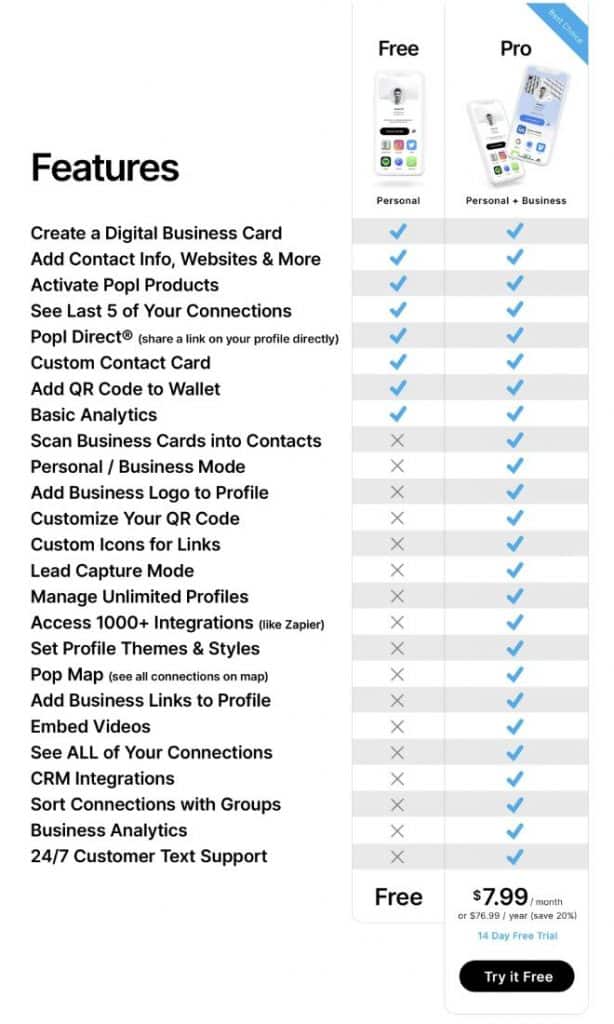 How Does Popl Compare to Other Digital Business Cards?
Check out my digital business cards guide, where I compare the best digital business cards / nfc cards. This should help you decide which cards are legit and how to choose a digital business card
Also see how does Popl compare to Dot Cards in my post Popl vs Dot. Or my Dot Card Review
Of if after reviewing all these you decide you just want a traditional paper business cards, that's fine too. You can check out my post about business cards and how you can make the best design.
Should You Get A Popl Digital Business Card?
If you're looking for a more convenient, professional, and eco-friendly way to exchange contact information, then absolutely! And when it comes to choosing a provider, Popl is definitely a great choice.
Popl is the ideal solution for anyone looking to network in a fun, easy and unique way. It's also very flexible as you pay for the functions you need and even has free features and personalized options like adding videos through the Popl Pro version. Many Solopreneurs and small businesses will be happy with the Popl card with the app's free version however its worth upgrading to the pro version if you are likely to use the extra features
For larger businesses and teams over five members the Teams feature offers collective brand management with customizable logos and titles – an efficient replacement for printing out business cards on-demand!
Sign up for Popl today and get started building your digital business card!