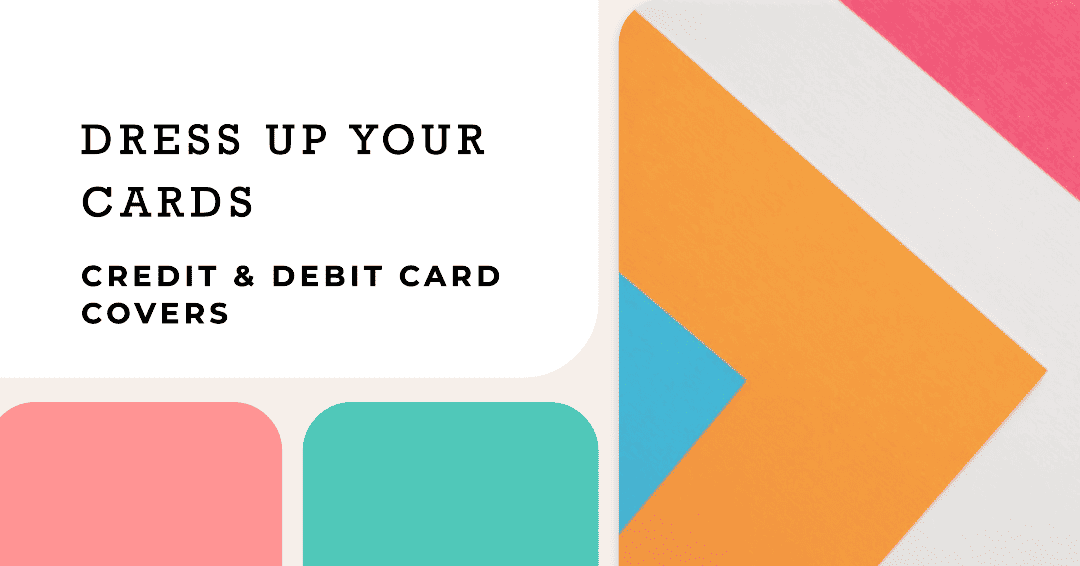 What Are Debit & Credit Card Covers? & Why They're Popular?
Debit and credit cards have become essential items that most people carry with them every day. As a result, decorative and protective card covers have emerged as popular accessories. In this blog post, we'll look at what exactly debit and credit card covers are and why they have become so commonplace.
What Are Debit and Credit Card Covers?
Debit and credit card covers are sleeves or cases that slide over your payment cards. They are typically made of plastic, metal, or leather. The covers fully enclose the card, leaving the chip visible so it can still be used for tap payments. Some covers have a cutout on the back so the card's security code is accessible.
Card covers serve dual purposes – fashion and function. On the fashion side, covers allow cardholders to stylize their otherwise plain plastic cards with colors, patterns, or designs. Brands and designers have created covers that range from simple and sleek to flashy and fun. Popular materials for covers include stainless steel, carbon fiber, and Italian leather.
In addition to looks, covers provide utility by protecting cards from wear and tear. The covers shield the cards from scratches and scuffs from rubbing against other items in your wallet or purse. This helps maintain the condition and readability of the card's chip and magnetic stripe. Covers also guard against damage should you accidentally drop your wallet.
Also check out my Credit Card Skins Ultimate Guide
Why Are Card Covers So Popular?
There are several reasons why card covers have become ubiquitous accessories:
Personal expression – Covers allow people to showcase their style or personality through their cards' aesthetics. They're an easy and subtle way to add flair.
Durability – Covers significantly extend the life of cards by preventing nicks and scratches. They keep the cards looking pristine and functioning properly.
Security – Covers provide an extra layer of protection against card numbers being skimmed by RFID readers. Some covers have RFID-blocking features.
Customization – Many covers can be customized with initials, monograms, or photos for a personal touch. Souvenir covers are popular purchases when traveling.
Affordability – Covers are relatively inexpensive accessories, ranging from $5 to $30 on average. The variety of prices allows for different budgets.
Easy to swap – Covers usually slide on and off cards effortlessly, allowing you to switch covers between cards or replace damaged covers.
Can I Decorate A Credit Card?
Yes, there are several creative ways to decorate your credit card while still keeping it functional:
Stickers – Consider removable, thin vinyl stickers to add patterns, words, or images. Avoid thick, heavily adhesive stickers. Place stickers carefully to avoid damaging the chip or magnetic stripe.
Nail Polish – Use clear nail polish and a steady hand to paint designs directly onto the plastic card surface. Do not paint over the numbers or any functional parts. Let it dry thoroughly before use.
Fabric Tape – Adhere a pretty strip of washable fabric tape along the bottom for a personalized accent. Only tape the front, not the back. Avoid covering key card details.
Card Sleeve – Slide your card into a reusable fabric sleeve. You can find sleeves in various prints, make your own, or decorate a plain one with iron-on designs.
Embossing – Use an embossing machine and dies to press designs like initials, symbols, borders, or shapes into the card. Avoid embossing over the numbers, chip, or stripe.
Stenciling – Cut out a small stencil with cardstock, place it on your card, and use fabric paint pens to add a repeated motif. Keep the design minimal.
Laminate Overlay – Print out customized images and phrases, laminate them, trim to card size, and attach to the front only with double-sided tape.
Be very cautious not to damage any card features and test out any adhesives or paints on old cards first. Minimal, temporary designs tend to be safest. Avoid alterations that could potentially cause issues at payment terminals.
Can I cover my credit card with sticker?
Yes, you can cover your credit card with stickers, but there are some pros and cons to consider:
Pros:
Customization – Stickers allow you to personalize your card and make it unique. You can use decorative stickers, your name, phrases, or other designs.
Affordable – Stickers are often cheaper than buying a decorative card cover. You likely already have stickers or can buy them for just a few dollars.
Removable – Many vinyl stickers can be removed fairly easily without leaving residue on the card. This allows you to switch up stickers.
Thin profile – Stickers add minimal thickness to the card, so it should still fit in wallets and machines. Thicker stickers may cause issues.
Cons:
Durability – Stickers likely won't last as long or protect as well as a full plastic or metal case. They can peel or scratch off with frequent use.
Damage risk – Removing stickers risks damaging the card numbers, chip, or magnetic stripe if you aren't very careful.
Stickiness – Some adhesives may leave a sticky residue or react with the card material when removed.
Coverage – A single sticker likely won't cover the whole card, so numbers are still partially visible.
Overall, stickers can be a fun, inexpensive way to customize a card, but may not be as protective or durable as an actual card cover. Use thin, removable stickers and place them carefully to avoid any damage. Test removal on an old card first.
How to Use Debit and Credit Card Covers
Using debit and credit card covers is very simple:
Choose a cover that fits your card – most are universal, but some are sized for credit cards only. Make sure it's not too tight or loose.
Slide the cover onto the card until it clicks into place, ensuring it's straight and centered. The chip should fit through the notch.
To remove the cover, press along the edges until it pops off. Avoid using excessive force.
Custom covers may need to be aligned and adhered during application. Follow included instructions.
Carry the protected card as usual and enjoy added peace of mind. Covers are durable for daily use.
To clean covers, use a dry microfiber cloth to avoid damage and maintain shine.
Debit and credit card covers offer the perfect blend of fashion and function. Allow your cards to reflect your unique style while keeping them protected with the useful accessory. With the variety available, you can likely find covers to coordinate with any wallet, purse, or lifestyle.
Here are some of the best debit and credit card covers to consider:
Metal Covers
Stainless steel covers are sleek, durable, and RFID-blocking. Brands like Mango and Sculpsto make nice stainless covers.
Anodized or brushed aluminum covers have a smart, metallic look. TUFFWrap and Vaultskin make quality aluminum covers.
Titanium covers are super strong and lightweight. Raffaelo Titanium has carbon fiber titanium covers.
Leather Covers
Genuine leather covers have a classic, elegant look and feel. LEVO, Dockers, and Bellroy make great leather covers.
Handmade tooled or embossed leather covers are higher end. LittleMooCrafts on Etsy has unique leather designs.
Vegan leather covers are animal-friendly. Corkor, AWW, and SMATREE produce vegan covers.
Designer Covers
Louis Vuitton has iconic monogram and Damier canvas covers ranging from $175-$250.
Gucci's leather bee and heart covers with interlocking G detail cost around $250.
Kate Spade's whimsical patterned covers like floral and glittery cat designs are $30-$50.
Custom Covers
Covers you can customize with photos or text for a personal touch. Cucu Covers (see my Cucu Covers Review, Discommon.co and Zazzle let you design your own.
Etsy sellers like NiceDebit, KreationKa, and CraftingChaos also offer custom handmade covers. Some of the Etsy Credit Card Skins Can be found here.
When choosing, consider cover material, design aesthetic, protective qualities, and price to find your perfect match!
Cucu Covers
Cucu Covers is one of the best places you can get skins for your credit card or debit card. You can check out my Cucu Covers Review or go straight to Cucu Covers to get yours now.
Final Thoughts
Debit and credit card covers have become a popular accessory for both fashion and function. The covers slide over cards to provide protection, durability, and personalization. People love being able to showcase their style through sleek metal or leather covers from luxury brands. At the same time, the covers shield cards from daily wear and damage. With so many designs and materials like stainless steel, aluminum, titanium, leather, canvas, and more, there are covers to suit anyone's tastes. Customizable covers take personalization even further. Ultimately, card covers are affordable and easy to use items that keep your cards safe while allowing you to express your individuality. They make great gifts too. With the myriad of options available today, debit and credit card covers are here to stay as fun and functional accessories that provide security and style.